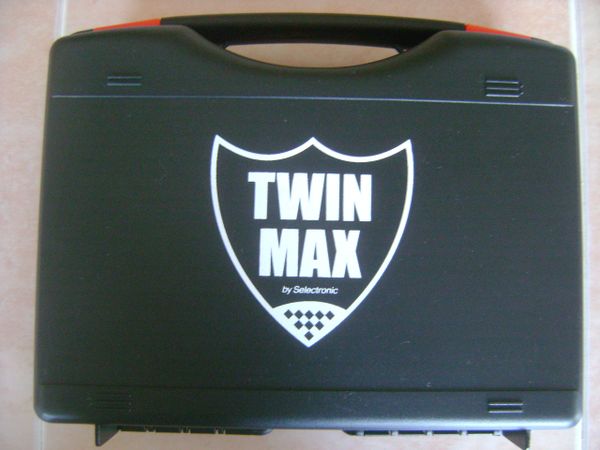 Twinmax with Case
Twinmax with a storage and carrying case.  Comes with a Twinmax, 2 X 5 mm adapters, 2 X 6 mm adapters, 2 X reducer adapters, a 9 Volt battery, and instructions.
If you would like 4 adapters instead of the 2 X 2 please choose the options.  If you would like 2 extras choose the 2 X option of the size you would like.
Restores the power, response, and smoothness to your motorcycle.

Absolutely accurate (within one mm of mercury).

It's Electronic - no moving parts to wear out.

It can be used in any position.

No hazardous material, i.e. mercury.

Portable, it has an internal 9 volt battery which is included.

One year warranty.  If it doesn't work we will replace it.

Very easy to use.  Our first product review said "It's experience in a box.".  If you use any other diviece you will be more accurate and faster with a Twinmax.  A renowned BMW expert said he could always improve on carbs sticks with the Twinmax but could never improve on the Twinmax with carb sticks.

Faster and more accurate than carb sticks or other devices. 
The Twinmax can be used on ANY internal combustion engine with two or more cylinders with two or more carbs or fuel injection. Motorcycles, snowmobiles, classic cars, motorboats, 4 cycle outboard motors, light aircraft, ultralights, etc..

You can always call us about the Twinmax between the hours of 9 am and 9 pm MST, 7/365.  800.217.3526